Japan Gastroenterological Endoscopy Society (JGES) is a preeminent professional organization dedicated to advancing the practice of GI endoscopy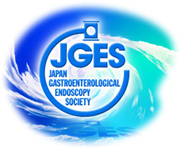 JGES International Membership:
JGES launches new "International Membership" in 2018 and welcomes doctors outside Japan to become JGES Members.
JGES International Membership Benefits Include:
Priority registration to Hands-on courses organized by JGES
Receive information on endoscopy live demonstration courses in Japan
Payment for the annual membership fee via credit card(VISA or Mastercard only)
How Much Is the Annual Fee?
Annual fee for JGES International Membership is JPY5,000 (Approx. USD50, depending on the exchange rate) for the term of one year (from March to Feb).
If you wish an online access to JGES official Japanese Journal "Gastroenterological Endoscopy" OR wish to receive a print copy of English journal "Digestive Endoscopy", please contact JGES Secretariat and apply for JGES Regular Membership with JPY15,000 annual fee.
Who Can Be a JGES International Member?
JGES welcomes any doctors outside Japan to become international members as long as they are interested in GI endoscopy.
How To Apply for JGES International Member:
Please complete your application and send it to JGES Secretariat via email along with your CV and a copy of valid medical license.
Required Documents:

CV
Copy of valid medical license

After JGES confirms your application and required documents, you will receive an email to request a payment of annual membership fee via credit card.
Once your payment is completed, you will receive an official welcome letter including your membership ID.
IMPORTANT
JGES can accept new membership application only in May, June, September and October every year. If you wish to be a JGES member, please send your application well in advance and settle the payment within those months.
Others
Please inform JGES Secretariat for any changes in your contact information.
Membership renewal notice will be sent to your contact email address.
If you wish to cancel a membership, please submit a notice of withdrawal with a reason.
If you fail to pay annual fee for 3 years, your membership will be automatically terminated.
JGES Secretariat:
Japan Gastroenterological Endoscopy Society
Address:Shin‐ochanomizu Urban Trinity Bldg. 4F, 3‐2‐1 Kandasurugadai, Chiyoda‐ku, Tokyo 101‐0062, Japan
TEL:+81‐3‐3525‐4670 / FAX:+81‐3‐3525‐4677
Email:info@jges.or.jp