Dr. Teh-Hong Wang, Ex-President of Taiwan Society of Digestive Endoscopy (DEST), was awarded JGES International Honorary Membership on September 2016, and a commemorative plaque was given to him from Prof. Hisao Tajiri, President of JGES, at the party to celebrate his 90th birthday hosted by DEST on October 2, 2016.
Dr. Wang studied under Prof. Takao Sakita at the University of Tokyo from 1967 to 1968 and deepened a friendship with many Japanese endoscopists.
After he established DEST in 1992, he worked hard to develop friendly and fruitful relations between Taiwan and Japan for more than 20 years. In recognition to such contribution to JGES, he became the 1st JGES International Honorary Member.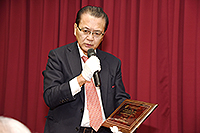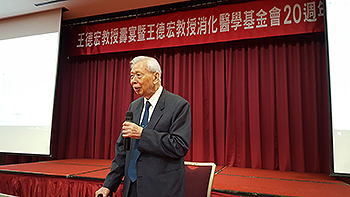 At the party to celebrate his 90th birthday